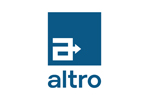 Altro Floors
Altro Floors is a leading manufacturer and supplier of High Performance floor coverings for applications as diverse as food and pharmaceutical manufacturing; offices and commercial buildings; the hotel and leisure industry; healthcare; and education.
Altro safety flooring, invented by the company 50 years ago, is now exported to over 70 countries worldwide. In addition, Altro manufactures or supplies a wider range of commercial and industrial flooring than any other UK company.
Altro's award winning flooring products include easy to clean and slip resistant safety flooring, high design vinyl and rubber and a complete range of resin flooring. Altro also offers a total flooring, walling and ceiling solution developed to provide designer finishes with safety, hygiene and practicality incorporated.
With subsidiary companies in Germany, Denmark, Sweden, Canada and the USA and a network of distributors throughout the world, over 50% of sales of manufactured products are to overseas markets.
Altro's operations are carried out to rigorous quality standards underpinned by ISO 9002 and 14001 accredited procedures.